Year R
Almost 101 things to do with your child
Year R Weekly learning
7th June
This week we have been very busy in our outdoor area. Some children have been looking at how they can change a mixture in the mud kitchen, others have loved making bubbles. We have also had a boat wash this week whilst some children have been searching for and making homes for some minibeasts.
17th May
We took advantage of the wind in our outdoor area and loved making our own kites. The children also loved playing with the wind socks and making parachutes using plastic bags.
10th May
This week some of the children have been enjoying exploring plants in different ways. They have been experiment to see how they can affect the plant and making observational drawings of what they can see.
26th April
Some of the children were able to go pond dipping this week in our outdoor classroom and were lucky enough to find some newts. We have been helping to look after them and have enjoyed watching them.
19th April
As it was St George's Day this week we have been listening to the story and using it as inspiration in our play. Some of the children have loved making swords, shields and even a few dragons!
22nd March
In Year R this week we have been very creative, making our own little robots out of foam. As the weather was so windy we have also been making our own kites and streamers to fly in the wind. Some children also really enjoyed making their own costumes this week to use in their play.
1st March
This week we have be doing lots of different activities to celebrate World Book Day. They have included listening to lots of different stories, making flying Zogs, dressing up as our favourite book characters and making really yummy Gruffalo pancakes!
22nd February
As it was Chinese New Year during half term we have been taking part in lots of different activities such as fan making, glass lanterns, fan dancing and had a go at writing some Chinese letters. We enjoyed learning about the animals in the New Year story as well as watching the dragon and lion dances.
1st February
This week we have had lots of fun during Pirate week. The children have been doing a variety of activities all week and have loved walking the plank, making treasure maps and even got to make their own chocolate treasure chest!
25th January
In the cold weather, we have been exploring the ice outside. We were trying to find different ways of melting the ice and where it would melt the quickest.
14th December
This week the children have been taking part in lots of Christmas activities. They have enjoyed the Christmas dinner as well as joining in with lots of party games!
7th December
We were lucky enough to meet Caroline and Harold the giraffe this week. He taught us about our bodies and some of the things we can do to keep us healthy.
30th November
In Year R we have started to get ready for Christmas. We have been making some decorations including reindeers, baubles, elves and snowmen. As well as created our decorations for the trees which arrived in our classes overnight!
23rd November
This week we had our first Fantastic Friday in Year R. The children were able to take part in some fun activities such as mask making, dancing and some parachute games. We even got to make and eat some popcorn.
16th November
On Monday we joined in with Odd Socks Day. We listened to songs on Cbeebies about being unique and united together. We have also enjoyed learning about Diwali, making some Rangoli patterns and Mendhi hand art.
9th November
The children marked remembrance day by painting a pebble which was placed into the shape of a poppy. We have also been thinking and discussing our own memories.
2nd November
This week we have been exploring and creating using things found outside in Autumn. Some of us have been making stickmen, whilst others have enjoyed exploring a pumpkin. We have also been making swords which we have then been using in our play.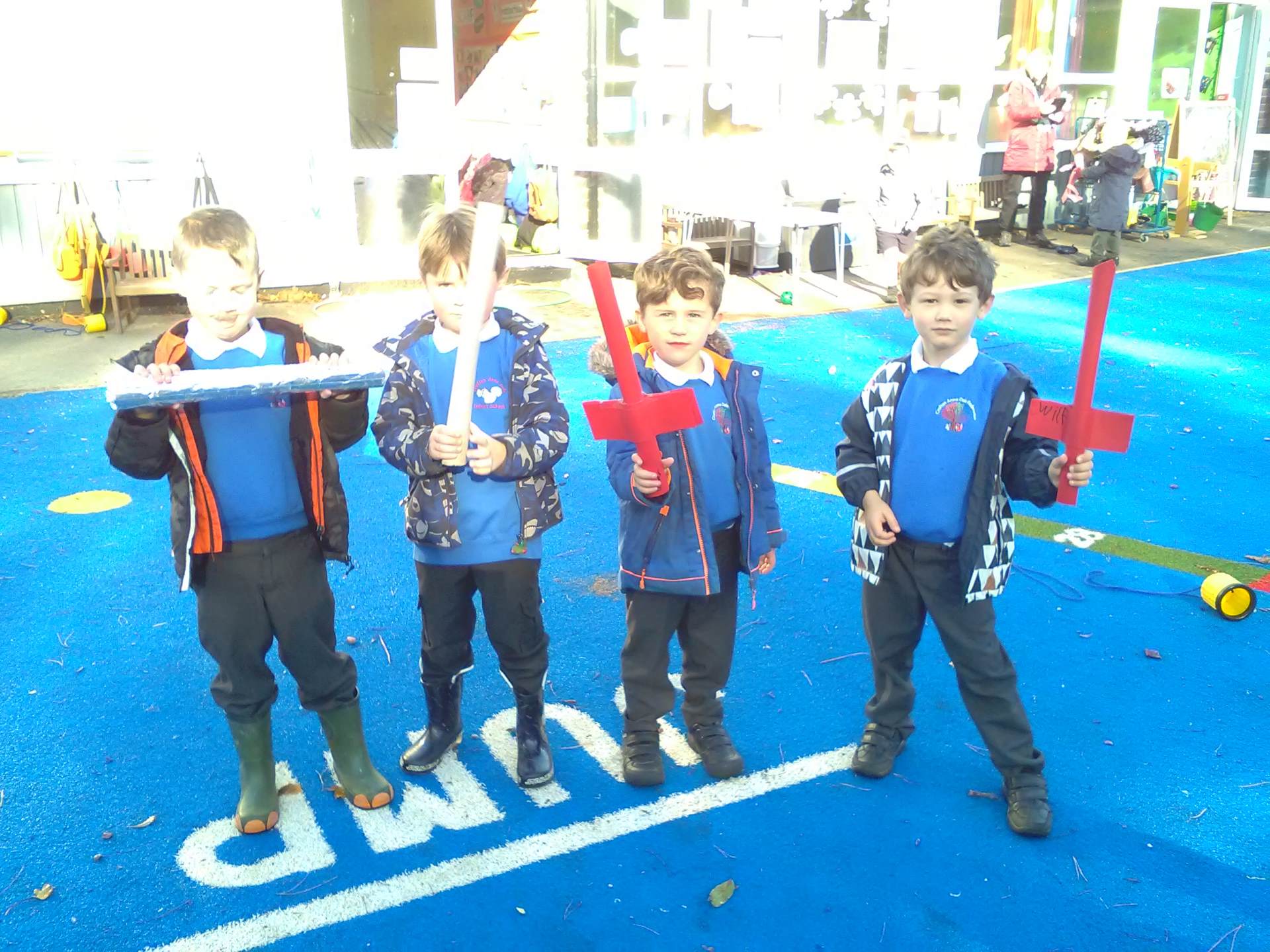 19th October
This week we have been showing great teamwork in Reception. Lots of the children have been working together to help spread the wood chippings around our playground. Even in the wet weather we helped each other as lots of us built a trail to walk on to help us get through the big puddles.
12th October
In Year R we have continued to show our creativity and have been doing lots of mark making. We have really enjoyed using the large chalks outside to draw pictures and to practice our writing. In the classrooms we have also started experimenting with colour mixing.
5th October
This week in Year R the children have been very creative making their own props for their role play. This week they have made shields, hats, pirate eye patches and a castle.
28th September
Year R have been spending time exploring the indoor and outdoor classrooms. This has been their first full time week and they have enjoyed their school dinners in the hall. They have even managed to enjoy the wet weather on Friday, working together as a team and cooperating to build an obstacle course with the large construction.
Click here for Mrs Stray's Videos

Click here for the Year R Home Learning Pack
Click here for the Year R Learning Grid
Spring 2020 Curriculum
Please click here to open the Year R Spring 2020 Curriculum
A Day in the Life of a Year R Pupil
Foundation Stage Fact Sheet
Useful websites to help with Maths and Literacy
Cbeebies - Help your child with Maths
Oxford Owl - Numicon guide for parents
www.penguin.co.uk - How to teach your child phonics